This Stoa NITOC 2019 Commemorative Coin
will be on sale during online registration.
The supply is limited, so order your souvenir coin early!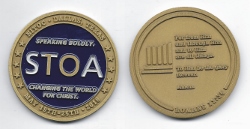 On the front of the coin, the spirit of Stoa is captured in the motto:
"SPEAKING BOLDLY. CHANGING THE WORLD FOR CHRIST."
The coin recognizes Stoa's 10 year anniversary of this mission
at NITOC in Dallas, Texas.
The reverse bears the benediction of the Stoa verse:
"For from Him and through Him and to Him are all things.
To Him be the glory forever. Amen." Romans 11:36
Freshly minted in a brass finish, these 2" 3D commemorative coins are
filled with color enamel accents on the front.
At $10 each, they are ready to become a special souvenir of NITOC 2019.